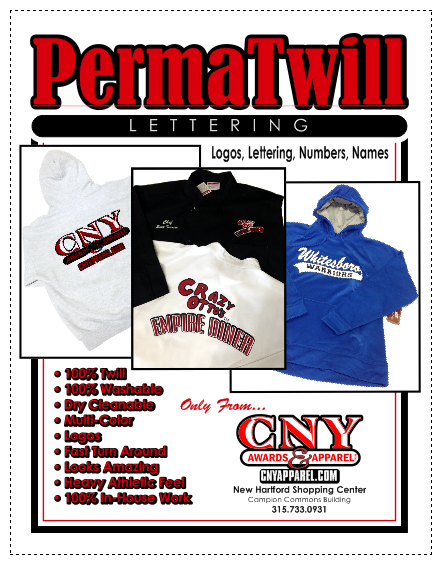 We have been very busy here at CNY.. with out new location in full operation and adding new product lines.
Like our PermaTwill lettering, we started for Christmas. And what a response, people are preferring it over the traditional tackle twill lettering, and for many good reasons.
Cleaner lettering, logos are now possible, eay multi-color designs and best of all..  super fast turn around. Since we have our own equipment in house.. we turn these beauties out in just a few days on most orders.
Yes, we certainly have been busy and having fun with the logo ability of PermaTwill. We also wash tested a hoody and even after 14 washes… it looked like new.. truly an amazing new product line.
Stop in today at our new location (Campion Commons building) in the New Hartford Shopping Center and get a free quote on your next PermaTwill order.
Look for us for all your apparel, awards and signage needs.
Coming up soon… custom cut acrylic awards, yes..logos and engraving cut from acylic.