Check out our new item… well newly upgraded item. We've been doing life size blow-ups of your pictures for 8 years now. Our new system not only enhances the color of the enlargement, but does so on hi-resolution glossy vinyl paper, photographic paper or matte artist canvas. We can even apply effects to the image such as sepia, grayscale, watercolor or my favorite impressionism, which makes it look like it was hand painted.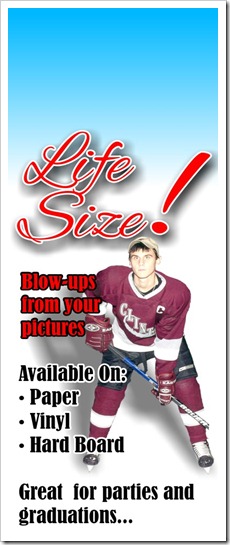 Stop in today for a FREE quote for your next party. These are great for:
Graduations
Reunions
Portrait Enlargements
Artist Canvas Reproductions
Create Great Gifts
Stretch Over Frames For A Professional Look
Blow-up and enlargements' can be made from almost any photo you have. Free cleanup and cropping of images and image repairing available. Text and other graphic elements can be added, such as drop shadows, transparency and cutouts among many other effects.